Flip the coin and FOREX
Well, let´s change a view at forex a little now. Many of you already have experience, some of you have even experience of several years, but you haven´t managed to earn money on the market so far. The reason of this is that everywhere around is being presented incredibly many unnecessary, non-workable and non-sense things. Let´s change a view a little now. Forex is a 50:50 game. Although the market is being moved in cycles, most of the time it is  50:50. It means that if we were flipping the coin, effect would be maybe, and often it is, better than when we would spend a lot of time by various analyzes. Cycles are very often at market. They are very clearly visible and we can find them at almost every timeframe. It is enough to look into history and it is immediately revieled there. However, the issue here is that we need to know what will happen in future because we trade in future.
Let´s check a simple example with flipping the coin and it will be visible in excel how those graphs will very very resemble to each other and what everything is possible to be analyzed at such a graph. So there is the graph with flipping the coin in front of us. This graph has been generated by excel. It is a very simple formula which can be very quickly handled by excel. So we can see here at the left side that flips of coin were exactly 50:50. We have there series of 2,000 flips and out of this number there has fallen 1,002 times one side and 998 times the other side of the coin. We can see at graph… Perhaps we could see a head and shoulders at the moment. We could see whichever other pattern, simply a market which is not in trend at the moment.  It could seem while flipping the coin that this graph will always be non-trendy and we will always see only non-trendy moves. Let´s try to flip the coin again.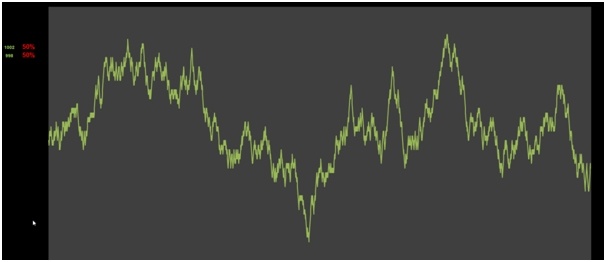 So we flip again and we can see that we have a very clear descending trend at graph. There is visible a clear trend in totally normal way and we can see that probability has bent to one side. So we have flipped one side of the coin by 2 % more often and we can see that we have achieved totally clear trending movement. So 2 % have been enough to totally clear trend creation.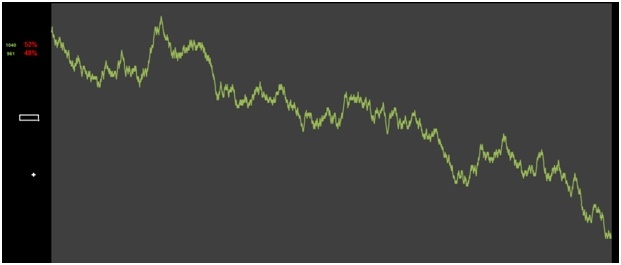 Let´s try to flip again and we can see again and surely we would find whichever patterns and we could compare it to whichever graph which is visible at forex. It will be exactly the same. We can flip as many times as we wish and it will always seem very clear, very similar and basically exactly the same as forex graph.

As we can see we have 50:50 again at the moment and we can find in these flip the coin series also some kind of trend.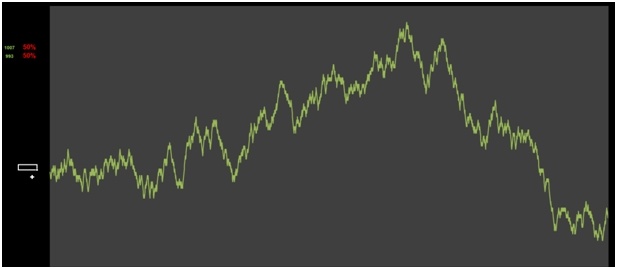 We can continue flipping over and over again and excel will always generate some random numbers which will be always showing us similar graph which is at forex. Of course, you can download this excel file (business tools) and you can try it out yourself in order to you trust me it is really true. We can see that 1 % is sufficient to make a trend. This means that for those who are at the opposite side is enough just one percent advantage and they know they will always win!
Jump to forex about 10 steps forward!